Fatphobia in Dating Shows
Posted on March 02 2022
Well hello there! I hope you're having a great 2022 so far.
Since we last connected, I've taken a bit of a hiatus from The Curvy Shop to focus on some much-needed self-care in Arizona.
We have recently added a Social Media Strategist to our team – please join me in sending a warm welcome to Monique LaBossiere! Monique is a graduate of Mount Royal University, holding a Bachelor of Communication with a focus in Journalism, and a fellow plus-size fashion enthusiast.
Are Dating Shows Fatphobic?
This month's blog is focused on fatphobia in reality dating shows. I've been watching Season 2 of Love Is Blind on Netflix (don't worry, there are no spoilers here!), where the premise of the show is to meet your match based on forming strong emotional connections, sight unseen. The participants talk to each other in "pods" through a frosted glass window, removing the distractions of physical appearances, sex appeal, etc.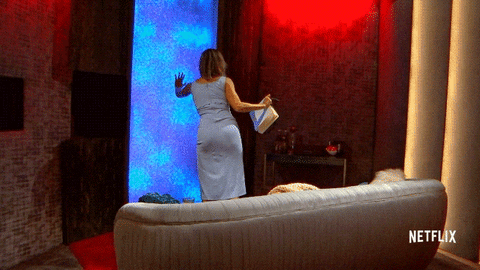 When I started watching Season 2, what first stood out to me was that some of the participants (both male and female) started asking questions about physical appearance, trying to determine what the other person looked like based on body shape, how often they exercised, etc. A few actually stopped themselves, commenting that they should be asking questions to get to know people on an emotional level. Many had generally focused primarily on physical attraction in past relationships, coming to the conclusion that this approach was no longer working. Yet they struggled to move past their "default mode" and get to know people for who they are, not for what they look like.
Some of the participants also comment about their weight and body size, talking about how they had either been "chubby" as children or had recently lost a lot of weight. They spoke about the impact that this had on their self-confidence in dating and relationships.
I was chatting with a friend about the show and mentioned how body size and weight loss came up during various "dates" in the pods. We talked about the lack of body size diversity in the participants. The majority of the women on the show are straight-sized. While there are a few curvy or plus-sized women, they aren't the focus of any dates or storylines. All of the male participants are straight-sized.
As a single gal, I can definitely relate to those feelings of uncertainty and insecurity when putting myself out there in a plus-size body. Especially when it comes to dating apps where people are generally swiping left or right based on appearances alone. When dating, plus-size women worry about things like:
Should I lose weight before I start dating?
Am I going to meet any "good guys" if I'm in a larger body?
Is this guy genuinely interested in getting to know me for me?
Will my body size bother the guys I'm meeting or dating?
Are they going to fetishize my body, but never actually take me on a date, be seen with me in public, introduce them to friends and family, etc?
I think part of the problem is that we don't see many examples of a range of body diversity in mainstream media to begin with, let alone on dating shows. When we DO see a plus-sized person in a TV show or movie, they're generally the butt of a joke or their weight and dieting are the focal point of their storyline. I'm curious to hear about how plus-sized males feel about this – do they have the same insecurities as women when it comes to dating, because they don't see their body size or shape represented in dating shows or love stories?
As a heterosexual woman, I certainly don't see the type of men on dating shows that I'm generally attracted to – think Toby from "This Is Us." I would love to see ANY type of TV show or movie where plus-sized characters are just average, everyday people. They're not singled out for their body size, and the fact that the characters have a range of body shapes and sizes isn't made into a "thing" in the storyline.
And I would LOVE to see a dating show where people of ALL shapes and sizes demonstrate that it's possible to successfully fall in love, date, have sex, get married, etc. Because weight is really the least interesting thing about a person. True intimacy comes from peeling back the layers and getting to know someone based on a genuine connection, respect and trust.
In the meantime, I continue to date and am still seeking my "Toby." Referrals and blind dates are welcome!
What's Coming Up?
Watch our social media to be the first to know when our new picks for Spring get posted!
We are also expanding our Personal Styling and Shopping services and looking to add Personal Stylists who have a passion for plus-size fashion to our team. As our services are offered virtually, we're open to working with Stylists located in Canada, the US, Mexico, the UK and Europe, Australia and New Zealand where our customers are primarily located. Interested in knowing more or have a referral? Drop us a note at shopthecurvy@gmail.com – we'd love to hear from you!
Until next time – be well!
With Gratitude,
Aymie